(Acworth, Ga. – July 14, 2017)
Students in Jamie Bailey's Radiography course recently came together to help out the family of a fellow classmate. After learning a fellow student was the spouse of an active military member who, along with his fellow soldiers, were in need of supplies in the Middle East, these students worked tirelessly to gather high-energy snack items, coffee and baby wipes.
Under Bailey's leadership, a collection campaign was launched at the North Metro Campus for those items. In a short period, the generous donors gave more than 100 pounds of products. Thanks to the assistance of CTC Business Center Operations Clerk Marcia Sasser, the items filled five boxes which were prepared for mailing and shipped overseas to the troops.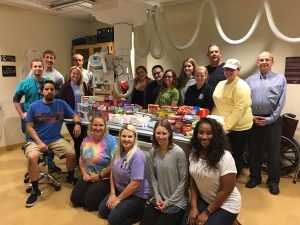 This effort epitomizes the support of only one segment of the CTC family and the interest shared in serving those who have and continue to serve in the U.S. armed forces.