(Marietta, Ga. – July 5, 2017)
Chattahoochee Technical College student Angibel Tome-Martinez, of Acworth, recently brought home a gold medal in Criminal Justice from the SkillsUSA National Championship, held in Louisville, KY.
"This competition used both written examination and practical exercises to evaluate the contestants' abilities and knowledge of the field," Associate Dean of Public and Professional Services/Media Tech, Business, Personal & Public Services Frances Carlson explained. "The contestants were scored on their knowledge and application of U.S. Constitutional law, written and verbal communications skills and their ability to handle an entry-level law enforcement position."
Tome-Martinez was joined by two other state gold-winning students from Chattahoochee Technical College, Celina Vicente of Powder Springs, who competed in the area of Commercial Baking, and George Pitcock of Rome, who competed in the area of Diesel Equipment Technology. They were joined by faculty members Jennifer Combs, Hillary Gallagher and Evan Dover, respectively.
Tome-Martinez said competing at the national level and bringing home gold was an "amazing experience."
"When they called my name and Ms. Combs told me to go on stage I asked, 'Are you sure they called my name?'" Tome-Martinez said, laughing. "At first, it didn't hit me. But then, when you're standing out there in front of all those people and they put that bright light on you, you realize you won — it was definitely an amazing experience."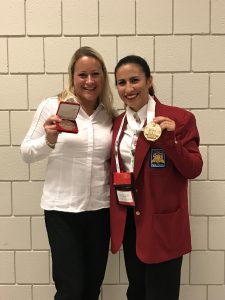 She said the most difficult portion of the national competition was engaging in four criminal justice scenarios while being provided very little information about the situation. For example, in the state competition, a competitor may be provided information prior to engaging a mock vehicle stop. In the national competition, the competitor may walk up to the vehicle with no prior knowledge of the situation, only to be met with evidence of a weapon and illegal drugs.
Through preparation in her classes and experiencing a ride-along with a Cobb County law enforcement officer, Tome-Martinez brought her skills to the table to tackle these portions of the competition.
"What I think really gave me an advantage is that I went through the scenarios the way I would want to be treated — firm, but with respect — and I kept my stance at all times," she said.
Tome-Martinez said the hands-on education she receives in the classroom not only made it possible for her to be successful in the competition, but will help her to find employment upon graduation.
"I have always had a passion for law enforcement — it is so important to our society," Tome-Martinez said.
SkillsUSA is a national, nonprofit student organization that has developed more than 10 million workers through active partnerships between employers and educators. Hundreds of American industries have turned to SkillsUSA as the source for employees who exemplify "Champions at Work" in both skills and attitudes.
The SkillsUSA State Leadership Conference included a large career fair, seminars and a chance for students to network with other students in various fields of study. The event culminates with a multi-location competition covering approximately 100 areas of technical, health and service education.