(Marietta, Ga. – April 14, 2017)
Solving computational problems was a breeze for two Chattahoochee Technical College students competing at the 2017 Association of Information Technology Collegiate Conference held April 6-9 in St. Louis, Mo.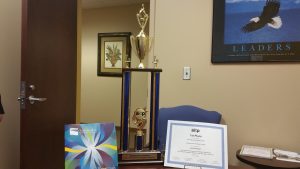 Facing 50 other students in the Java Developer contest, CTC Computer Programming students Samuel Seidel and Jean Zambrano finished first ahead of teams from Central Michigan University and Purdue University. The students, both of Marietta, attended the conference as members of the college's Association of Information Technology Professionals club, which is designed for students planning careers in information technology.
"I couldn't believe that we had won. I saw my own name, Sam's name and the name of our college in the big screen and felt extremely excited," Zambrano said. "I put both of my arms up and screamed "YEAH," and pointed at Sam and then hugged him. We then proceeded to receive the trophy, the certificates, as well as two iPad Minis as first-place prizes."
Technology Advancement and Support Technician Matthew Semple, who serves as co-advisor for the college's student branch of the national organization, attended the conference, as well, and called the accomplishment a victory for the college.
"I'm very excited that our students won first place," said Semple, who served as a judge for PC Troubleshooting, Business Analytics and Visual Studio.Net Developer. "It is both a personal victory for me and a victory for the college. We beat some major colleges and universities, and I'm proud of our students."
Sponsored by State Farm, the Java Developer competition required teams to solve a problem statement provided at the beginning of the contest. All participants were encouraged to be skilled in Java, JUnit and have knowledge on how to package a .JAR and/or .WAR file using command line or IDE, refactoring, object oriented principles.
"We had to simulate a project life cycle, a sort of schedule that selects an employee's skills, priorities, rates, productivity and their budget," Semple said. "The simulation calculated the budget and work completed in a given week. We had to pass a bunch of JUnit tests based on the calculations."
Zambrano said he and his teammate prepared for the contest by working on a Java project for their college class, Java III.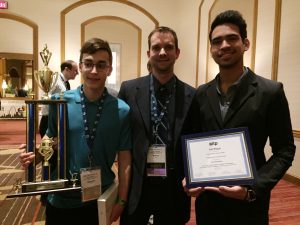 "We also looked at the previous problem statements from previous years that were available for download at the AITP website. So we used those to practice," he said. "The toughest part was probably dividing the work evenly and focusing on each of our strengths. For example, while I read and understood the problem statement, Sam was working on creating the classes (blueprints) for the program that we were about to write. Then we discussed and started coding."
The AITP National Collegiate Conference, started in 1996, is a forum for more than 500 top Information Technology college and university students, faculty and professionals to see, learn and hear the latest IT trends and issues first-hand from recognized industry speakers and top IT employers. Additionally, attendees can network extensively while receiving national recognition through participation in corporate-sponsored contests and events. The event draws from a network of more than 75 AITP student chapters throughout the country but is concentrated in the Midwest, Southwest, Southeast and Northeast portions of the United States.
Chattahoochee Technical College has been participating in the national conference for almost two decades as a way for students, faculty and staff to experience a professional conference focusing on Information Technology and Computer Science. Students can use this experience as a stepping stone to get real life programming jobs.
"It is very important for our students to participate in these types of events," Semple said. "There are many IT-related contests and other events that build camaraderie and develop leadership and technical skills. It helps the students prepare for real world jobs."