(Marietta, Ga. – April 17, 2017)
A Chattahoochee Technical College biology instructor has made her mark on higher education after being named a finalist for the Technical College System of Georgia's Rick Perkins Award for Excellence in Technical Instruction during the 2017 Leadership Summit held in Atlanta.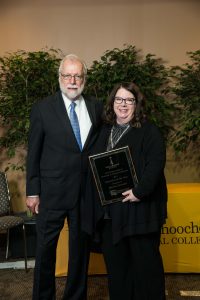 Dr. Juanita Forrester, a Jasper resident who teaches at the college's Canton Campus, was one of nine finalists for the prestigious award and called the recognition both humbling and validating.
"Being chosen as a finalist for the state Rick Perkins Award was quite an honor," she said. "I also view it as a tremendous responsibility. I want to cast CTC, as well as TCSG, in the best light possible and advocate for all of us as much as I possibly can. Being a finalist means that I can do that from multiple platforms."
The Rick Perkins Award for Excellence in Technical Instruction began in 1991 and is designed to recognize and honor technical college instructors who make significant contributions to technical education through innovation and leadership in their fields.
Each year, selection for the Rick Perkins Award begins with the naming of the top technical education instructor at each college, as well as the technical division at Bainbridge State College. Regional competitions follow and narrow the field to nine finalists for each award. At the 2017 Leadership Summit, the nine finalists gave a three-minute speech and were interviewed in Atlanta by a panel of judges. At each step, finalists are scored on their teaching experience, innovation in the classroom, leadership and civic involvement.
"I am most proud of being chosen as our Rick Perkins representative at the college level, because that was a choice initiated by my students and peers," Forrester said. "Part of our selection process was a panel of internal judges, including vice presidents, past winners and other CTC representatives. Knowing that they trusted me to represent all of us in this endeavor is incredible … I can think of no higher honor."
Forrester, a University of Georgia graduate and trained entomologist, began her career in higher education after realizing she was far more interested in teaching than she was sitting at a microscope.
As a newly minted Doctor of Philosophy, Forrester's first teaching assignment was in an auditorium equipped with stadium-style seating and two large screens behind her — it was not exactly what the former nontraditional student had in mind. Forrester envisioned a community college-type environment, where she could both motivate and inspire students in a more intimate setting. Driven by her passion for education and a want to help others succeed, the biology instructor pursued a career with Chattahoochee Technical College.
"I work with the best colleagues ever, and I learn new things from them every time I interact with them. I have the best supervisors anyone could ever ask for; they facilitate creativity and innovation," she said.
As one of the state's top instructors, Forrester's speech was about the impact technical college has had on her life, why she chose to teach in a technical college, and how technical colleges affect communities.
She said her inspiration came from those she interacts with daily.
"I think my greatest inspiration comes from my students. They all work hard, and many of them face unimaginable obstacles just to go to school, much less succeed, but they do. And they do so in grand fashion," she said. "Every time I see a student achieve more than he or she thought possible, I am more determined than ever to work harder, too. I have always loved learning. I often joke that I liked school so much I never left."
Forrester believes that when an instructor has a true passion for education, it is contagious. In her classroom, she strives to create an environment where students are not afraid to speak up and ask questions.
"I try to find real-world applications and relevant current events to spark even more interest and engagement," she said. "My students know I care about them and their futures, and we share stories and humor. But they also know that I am dead serious about standards and preparing them for the next level."