(Marietta, Ga. – Oct. 28, 2016)
On Friday, Oct. 28, students from KSU's Supported Employment Transition Services Program (SETS) enjoyed a taste of something new as Chattahoochee Technical College's Culinary Arts Program celebrated National Disability Awareness Month.
"The SETS students get to experience working in a commercial kitchen for the day," CTC Culinary Arts instructor Hillary Gallagher said of the event, held on the Mountain View Campus in Marietta. "We provide them with recipes that they can take home and reproduce for their families, hopefully to rave reviews."
Operated through Cobb County Schools, the SETS Program students are given the opportunity to gain independence while working in a real world setting. The ultimate goal of the Supported Employment Transition Services Program is to prepare students for a life of independence. After exiting the program, students are given the opportunity to seek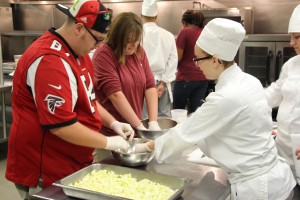 employment with the support of a supported employment vendor.
On the menu this year was green salad with ranch dressing, penne pasta with Bolognese sauce and an apple crisp.
"All of our students who have participated in this event always say the same thing – 'best day ever, chef,'" Gallagher said. "It is very rewarding for our students to be able to pass on a little of what they have learned to others. No matter what is on the menu, or if a mistake or two is made, everyone walks away with a big smile on their face."
Chattahoochee Technical College has partnered with the SETS program since 2007.