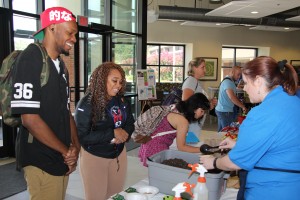 Students returned to Chattahoochee Technical College on Monday and were treated to a week packed full of back-to-school activities designed to promote student engagement outside of the classroom. Eagle Week, named after the college's mascot, Swoop, is the official fall semester kickoff event hosted by Campus Life.
According to Executive Director of Retention Services Dr. Lauren Lunk, Chattahoochee Technical College's Campus Life is committed to the philosophy of supporting the development of students and strives to achieve this goal through the implementation of a diverse array of campus organizations, enriching activities, and events.
"Although Chattahoochee Technical College is not a residential college, we strive to keep our students engaged outside of the classroom and encourage them to interact with other students, faculty and staff," said CTC Vice President of Student Affairs Dr. Trina Boteler. "Throughout the week, the college has hosted Campus Life events at seven campus locations and students have been very appreciative of our efforts."
Eagle Week kicked off on Monday, Aug. 22, at the North Metro Campus with a community marketplace event and ice cream social, and it wrapped up Thursday, Aug. 25, with a taco day and Suc-Seed at CTC event, during which students were given herbs to take home and plant in an effort to encourage healthy eating. Similar events were also hosted throughout the week at the Mountain View, Marietta, Canton, Woodstock, Appalachian and Paulding campuses.
"The turn out for Eagle Week has been outstanding. This event gives us an opportunity to speak with students not only about Campus Life but also about making healthy choices and educating them on what resources are available outside of the college," Lunk said.
During the marketplace event, students had the opportunity to speak with various vendors from around the community regarding services they offer and information about student discounts. Vendors included Wells Fargo, PNC Bank, Grand Canyon University and Anytime Fitness, to name a few.
Acworth resident Jamel Patterson was one of the thousands of students to partake in Eagle Week festivities. The student, who is studying Automotive Technology at the North Metro Campus, stated he was impressed by the college's ability to take the stress out of schoolwork.