(Jasper, Ga. – June 6, 2016)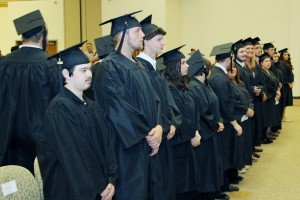 One hundred students who participated in Chattahoochee Technical College's Adult Education Program were honored Thursday, June 2, during a GED Recognition Ceremony held at the college's Appalachian Campus.
The ceremony included two student speakers who were selected by the program's instructors and administrators to tell their story. Speakers featured in this year's ceremony were CTC's 2016 EAGLE winner Jessica Warren, who was introduced by Levi Warren, and the 2016 GOAL winner Jourdan Ortiz, who was introduced by Amy Denney.
Dr. Johnnetta McSwain, author of "Rising Above the Scars" served as the keynote speaker and was introduced by CTC's Executive Director of Adult Education Tamika Phillips.
For more information about the college's Adult Education Program, visit http://www.chattahoocheetech.edu/adult-education/