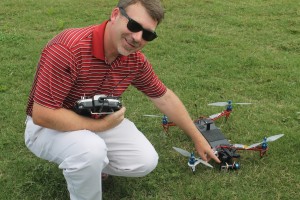 (Acworth, Ga. – Aug. 22, 2014 This fall Chattahoochee Technical College will be taking to the skies with its first Unmanned Aerial Vehicle Technology class. A hot topic in today's technology, the UAV class will be held over two and a half days and feature lecture, simulation, and application through actual flying time during October at Chattahoochee Technical College's North Metro Campus in Acworth.
The concept of unmanned flight is not a new one. Dating back to the 1800s and use of balloons, the technology has received more attention lately. Essentially, UAVs are aircraft with no pilot on board. They can be remote controlled aircraft or can fly autonomously based on pre-programmed flight plans or more complex dynamic automation systems.
In addition to military roles, UAVs serve where traditional alternatives are dangerous, monotonous, or too expensive. Some common roles include real estate marketing, commercial video production, utilities monitoring, and missing persons search crews. Additionally, many have become hobbyist by using the devices for leisure and entertainment through first person view (FPV) flights that were not practical before.
The course will be hands on and limited to approximately 20 people to ensure the best experience. Course fees run $699 through Chattahoochee Technical College's Economic Development Division. The first course is scheduled to take place on the evening of Thursday, Oct. 16, during the day Friday, Oct. 17, and on Saturday, Oct. 18.
The course will be taught by Steve Cain, who has 25 years of experience with radio controlled aircraft, including design, construction, operation and pilot instruction. With a background in electrical engineering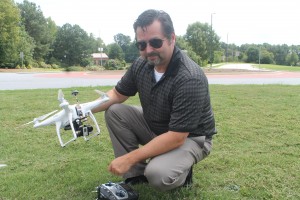 systems integration and complex project management, Cain is also the secretary and prior president of the Bartow County Model Aviation (AMA 2475). Also teaching will be Scott Estes with more than five years of experience with radio controlled cars, aircraft and multi-rotor. The Executive Director of Technology Advancement at Chattahoochee Technical College, Estes has more than 10 years of photography experience, including aerial photography and videography.
"The course will give you an introduction to what you need to successfully fly UAVs," said Cain. "We'll be looking at safety and the basics of the technology. We'll also look at where this fast moving field is going."
While Cain says his interest in UAV comes as an extension of his experience with radio controlled aircraft since the 1980s, Estes said he is interested in the technology behind the device.
"I became interested in learning how it worked," explained Estes. "I wanted to understand how you could get it to do the things you wanted it to do. From there I wanted to learn more."
Both instructors agree that it is not just the fun of flight or science behind the computer onboard that makes it interesting. Instead, it is the options and applications that are yet to be discovered. Estes calls it an evolving technology that holds great possibilities for the future.
"We're on the cusp with this technology," said Cain, who added the technology available with UAVs would not be possible today without the explosion of advancement in smart phones and similar tools. "Just like when you think about a computer, you realize that on its own that isn't exciting or new. However, when you realize that it changes everything it touches and opens doors to practical solutions for things that nobody could have imagined just a few years ago."
For more information on the course or enrollment information, call 770-528-4586 or email Cynthia.Holland@ChattahoocheeTech.edu.