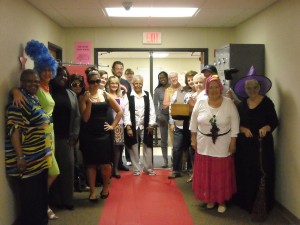 (Acworth, Ga. – Aug. 11, 2014)Celebrity spotters might have gotten a peek at some of their favorites from music, movies, television, and sports Saturday at the kickoff celebration for Chattahoochee Technical College's Adult Education Department. Instructors and assistants from the colleges program in Bartow, Cherokee, Gilmer and Pickens walked the red carpet as Elton John, Audrey Hepburn, Arnold Palmer, Ellen DeGeneres and more as they learned more about what the year has in store for the community in terms of GED testing and ESOL classes.
"My belief is that every program should have a theme that ties into the programs goals for the year and having a theme helps motivate all of the team players to accomplish the goals," explained Tamika Phillips, Executive Director of Adult Education at Chattahoochee Technical College. "This year's theme is From the Red Carpet to Success. Part of this theme comes from the performer and movie lover in me, however, it is a theme that I believe encompasses the fact that everyone associated with this program is a STAR."
Phillips said the theme extends to students in the GED program, as the ultimate goal is to get them to the stage.
"The path in which we travel is represented by the red carpet and the stage is what we look at as our platform to success," said Phillips. "Our goal is to get our students to the stage. That stage can be the graduation stage, employment stage, college stage or wherever they want to go."
The event provided an opportunity for the instructors to learn about updates from the state and to hear from community and state presents. Additionally, instructors had a chance to get to know each other better, as the learning centers are widely spaced in the four counties served by Chattahoochee Technical College Adult Education.
Chattahoochee Technical College offers free classes to prepare students for the exams, including placement testing and online resources. GED preparation classes are offered at no charge through Chattahoochee Technical College's Adult Education program at a variety of locations.
"We are doing great things this year and we are moving full speed ahead to not only meet and exceed our goals of helping students obtain a GED, enter and retain employment, and enter into post-secondary education," said Phillips. "We are also gearing up to do a Community Symposium to help make others aware of all of the good things we are doing to help Georgia's adult education students become productive citizens in their communities."
For more information about Chattahoochee Technical College and the college's Adult Education Program, visit www.ChattahoocheeTech.edu/adult-education.