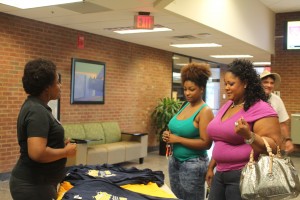 (Marietta, Ga. – August 18, 2014) More than 10,000 students carrying notebooks, pens, and textbooks arrived on campus at Chattahoochee Technical College Monday for the first day of fall semester. Seven of the college's eight campuses welcomed back students for a 16-week term that will end in December. Chattahoochee Technical College was recently recognized again as the largest technical college in state by the Atlanta Business Chronicle, which looked at annual enrollment numbers of schools in the Technical College System of Georgia.
This semester is the first under the newly expanded Strategic Industries Workforce Development Grant. Already available for students in Commercial Truck Driving, Early Childhood Care and Education and Practical Nursing, the Strategic Industries Workforce Development Grant (SIWDG) has now been expanded to include students in the diploma-level programs of Computer Programming, Diesel Equipment Technology, Information Security Specialist, Internet Specialist-Web Application Development, Networking Specialist, Surgical Technology and Welding and Joining Technology. Those qualifying for the HOPE Grant and studying one of these programs are eligible to receive $125 to $500 per semester in additional financial aid. Commercial Truck Driving students can receive an additional $1,000.
Monday morning's enrollment of 10,503 students at the start of the day was on par with last year's enrollment that was also a little over 10,000. About 41 percent of the students were taking at least one class online and 1,204 were exclusively enrolled in online classes. With several programs available completely online, this number is expected to grow.
Programs available online include Accounting, Business Administrative Technology, Business Management, Criminal Justice Technology, Fire Science, Logistics and Supply Chain Management and Marketing Management. Courses are delivered online include content and instruction off campus except for one proctored event completed in person. Online course offerings are also popular in other programs, as well as hybrid and web enhanced instructional offerings.
The Marietta Campus remains the top physical campus for student enrollment with 4,214 students, followed by the North Metro Campus in Acworth with 3,180. Approximately 1,003 students have chosen to take classes at the Canton Campus with more than 800 at the Paulding and Mountain View campuses. The Appalachian Campus had 539 students enrolled on Monday morning, and the Austell Campus, which is specifically for a limited number of health science programs, rounded out the list with 89 students. An additional 38 high school students are taking classes at the Bartow County College and Career Academy, up from 24 last year. The Woodstock Campus is currently closed for renovations.
Popular programs for students at Chattahoochee Technical College this semester remain Health Science for those preparing for healthcare related careers and the Technical Specialist Program for students wanting to take general education courses. More than 1,200 classes are being offered this semester during the day, evening and online.