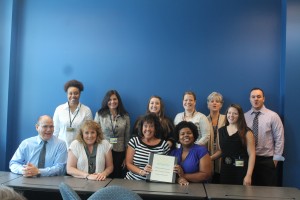 (Acworth, Ga. – July 31, 2014) For the nine students in Chattahoochee Technical College Program Director Jenny Pollock's Health Information Technology class, classwork looked a lot like the real world recently. The students began this summer with a simulated project that was a combined effort of the Healthcare Management and Performance Improvement courses at the North Metro Campus.
For the project, students were assigned the task of developing a health information management department from simulated data. The project included determining a physical layout, budget, policies and procedures, electronic medical record implementation, process improvement, productivity tool design, employee training and job descriptions. Each student took on a role from receptionist to manager, including holding staff meetings and determining the structure of the office space and policies and procedures that would meet industry standards and legal regulations. According to Pollock, students gained collaboration, teamwork, communication and planning skills. The students also completed peer-to-peer evaluations that will assist them in performance evaluation tasks in the workplace.
"The project will assist students in a smoother transition from the classroom to the workplace environment through use of standard policies, procedures and operations in a hospital health information management department," said Pollock. "Additionally, the class simulation experience will assist students in applying theory to practice, which will benefit the students with critical thinking skills to answer scenario-based questions on the certification exams."
Health Information Technicians organize and manage health information data by ensuring its quality, accuracy, accessibility and security in both paper and electronic systems. They use various classification systems to code and categorize patient information for reimbursement purposes, for databases and registries, and to maintain patients' medical and treatment histories. With classes offered at the North Metro Campus in Acworth, the program can be completed in four semesters by full-time students after they have completed their prerequisite courses. After earning a degree in Health Information Technology, students must take the Registered Health Information Technician certification examination through the American Health Information Management Association.