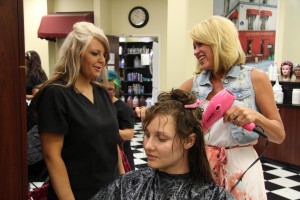 (Jasper, Ga. – July 25, 2014)The Cosmetology Program at Chattahoochee Technical College's Appalachian Campus will have a familiar face leading classes this fall. Instructor Jeannie Ingram will be taking the helm when classes begin back Aug. 18. Ingram has been teaching at Chattahoochee Technical College for two years, but is thrilled at teaching at the college's northern most campus.
"I am so excited to be the new Instructor over the Cosmetology program in Jasper," said Ingram. "This opportunity is a dream come true for me. I grew up in Pickens Co. I attended PHS and later received my Master Cosmetology License from what was once named Pickens Tech and is now known as Chattahoochee Technical College.
Prior to her current position, Ingram was able to teach as an international platform artist. In that position, she was called upon to demonstrate products and techniques to other professionals. The role helped her prepare her teaching skills, as well as develop an even deeper appreciation for the field of cosmetology.
This fall Ingram's classes at the Appalachian Campus will include topics on hair care treatment, chemical texture services, haircutting and styling. According to Ingram, students will be learning the fundamentals of cutting, styling, client relations and more.
Chattahoochee Technical College's Cosmetology Program is taught at the diploma-level and emphasizes specialized training in theory; safety; sanitation; state laws, rules and regulations; chemistry; anatomy and physiology; skin and nail care; hair coloring; reception; lab and salon management. The curriculum meets licensing requirements of the State of Georgia Board of Cosmetology. After examination and receipt of a Master Cosmetologist license, graduates are employable as cosmetologists, salon owners or managers, estheticians, nail technicians, platform artists or industry sales representatives. Courses are offered Appalachian, Marietta and North Metro Campuses.
"Since receiving my license I have had the opportunity in my career to enjoy everything this license can offer, salon/spa owner, industry rep, test salon for new products and one of the most enjoyable things – an international platform artist," said Ingram. "I love the career I have and want nothing more than to share all of my experiences and knowledge with my students."