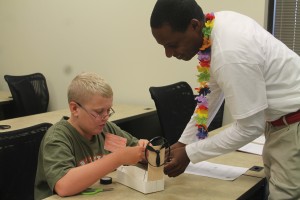 (Acworth, Ga. – July 18, 2014) Four children in Northwest Georgia have been stuck on a deserted island for a week or at least that's the scenario that has been playing out during the morning session of Engineering for Kids Summer Camp at Chattahoochee Technical College this week. In partnership with Engineering for Kids of Metro Atlanta, Chattahoochee Technical College began hosting Summer Solutions Camps for rising 4th through Rising 9th graders at its Marietta and North Metro Campuses. While learning how to think creatively and experiment with different scientific principles, the students have had a blast learning and having fun.
"The camp presents engineering concepts in a way that students of all ages can understand," said Raushanah Butler, technical programs coordinator at Chattahoochee Technical College. ""They developed tools, created solutions, and explored ideas that they may not have been exposed to before this week."
The participants were stranded on Survivor's Cove and split into two tribes for the week – The Survivor Spiders and the Giant Potatoes. Through a series of experiments, trial and error, and competition, the tribes have built their own flashlights, parachutes and boats in order to survive and escape back to civilization.
"I learned how to make a flashlight, what kind of water source – hot or cold – was better for a boat to float in, how to catch a fish using a magnet and what I need to make a parachute," said Survival Spider tribe member Gavin Mosteller of Dallas. "But my favorite part was playing with my friends."
The afternoon session of the camp at the North Metro Campus included a program on video game design. Video Game Design: Invader Defense allowed students to create their own video game.
Whether they are firing marshmallows or missiles, participants built a complete game from start to finish that they took home to enjoy.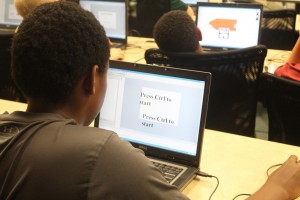 "We are focusing in this session on invader defense games and introducing participants into object oriented programming and the career of software programming in a fun and exciting way," Engineering for Kids of Metro Atlanta's President and CEO Maureen Myrie.
Another camp week is scheduled for July 28-Aug. 1 and will take place at the Marietta Campus of Chattahoochee Technical College. The morning session will include Momentum Madness where students will focus on how fast an object can go without compromising safety. Students in this camp will work with their pit crew to design and build vehicles such as dragsters and hovering levitrons.
The afternoon session of this week-long camp will also have a race theme as students can participate in Video Game Design: Racing Games. Students create their own video games by designing a racetrack, race cars and an environment for the competition. At the end of the camp, students take home a copy of the game they created.
"I'm excited about the camps because this is what it's all about: bridging that gap between the communities we serve and our institution," said Butler.  "With our high schools offering S.T.E.M. Magnet programs and our elementary and middle schools integrating these components into every day curriculum, it is vital that we do our part in insuring that we continue the momentum that has been built up over the school year."
For more information about these camp sessions, visit http://aceweb.chattahoocheetech.edu/wconnect/ShowSchedule.awp?~~GROUP~:FULL or call 770-648-5437.