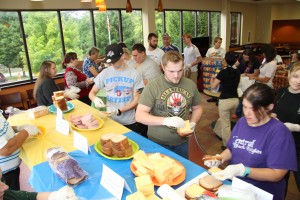 (Jasper, Ga. – July 29, 2014)Dozens of Chattahoochee Technical College students, faculty and staff banded together to pack lunch for 300 toddlers to teenagers in Pickens County recently. The group decorated lunch bags, assembled sandwiches, and packed treats for children as a service learning project at the Appalachian Campus.
"In addition to the lunches, students, faculty and staff at the Appalachian Campus donated additional lunch items for the Must Ministry lunch pantry," said Chattahoochee Technical College Instructor Pennie Eddy. "At the Marietta campus Reading Instructor Judy Cannon coordinated a book drive which when combined with the ones donated at the Appalachian Campus totaled more than 250 children and teen books delivered to Must Ministries. These books will be distributed on Fridays to the children and teens in the summer lunch program."
The project, which was in conjunction with MUST Ministries Summer Lunch program. MUST Ministries has organized such events for 19 years to provide sack lunches to targeted locations suggested by school counselors throughout the areas of Bartow, Cherokee, Cobb, Forsyth, Gwinnett, North Fulton, Paulding, and Pickens counties every day for 10 weeks in the summer. The children receiving the lunches are children who normally eat free and reduced cost lunches at school. During the 10 weeks of summer break they are left with little or no food, as most are children of minimum wage workers who must leave their children in the care of a neighbor or older child.
"Students seemed to really enjoy this event," said Eddy. "We hope this event will be repeated at more campuses next summer."