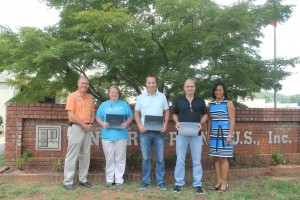 (Acworth, Ga. – July 9, 2014) Chattahoochee Technical College recently recognized the staff at Tintoria Piana for its training efforts. So far eight of the staff members have completed Lean Six Sigma Green Belt training. This training is designed to help employees focus on quality at the company's facility that opened in Cartersville in 1995.
"Training of this type helps to increase the knowledge of employees," explained Chattahoochee Technical College Director of Business and Industry Rick Goble. "It also allows leadership within a company to look at processes and systems to determine if changes can be made to enhance quality and efficiency."
The training program was able to be offered directly to Tintoria Piana employees at their work location in Cartersville through Chattahoochee Technical College Economic Development's customized training option. Lean Six Sigma training introduces a variety of tools, techniques and business metrics representing the best practices for quality and process improvement.
In addition to customized workforce training, Chattahoochee Technical College offers continuing professional education courses on multiple campuses and online. Courses typically include business management, childcare, healthcare, paralegal studies and industrial and technical programs. Professional learning units are available through certification programs such as ServSafe, Master Timber Harvester, and Georgia Erosion and Sedimentation.
For more information on training solutions for business and industry, as well as continuing professional education opportunities at Chattahoochee Technical College visit www.chattahoocheetech.edu/continuing-professional-education/ or call 770-528-4550.