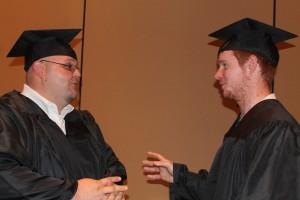 (Marietta, Ga. – June 4, 2014) Whether it was the fulfillment of a lifelong dream like Diesel Equipment Technology graduate Brett Chastain of Cartersville or the culmination of years of work toward a goal like Physical Therapist Assistant graduate Ashley Wilson of Woodstock, June 3 was a day of celebration at Chattahoochee Technical College's graduation ceremony. Marking the 50th anniversary of graduation ceremonies for what is now Chattahoochee Technical College, approximately 200 graduates walked in the ceremony in comparison to the 37 graduates from 1964.
"The first graduation was held in a classroom in the one building that was the entirety of the Marietta-Cobb Area Vocational-Technical School," said Chattahoochee Technical College President Dr. Ron Newcomb. "We have grown into needing a much bigger space now with eight campuses, online classes and more than 15,000 students a year."
The 37 students of that first graduating class studied business education, cosmetology, practical nursing, electronics, mechanical technology, air conditioning, auto mechanics, machine shop and radio and television repair. The 2014 graduating class of more than 400 students earned 658 degrees, diplomas and certificates in more than 45 programs of study. Of those students 38 maintained a 4.0 during their studies.
Among the honor graduates was Robert Brindle of Marietta who earned his degree in Motorcycle Repair Technology at age 64. Brindle is now planning to enroll in more classes at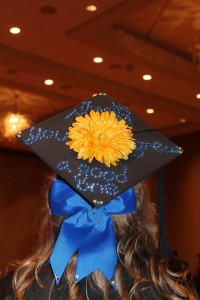 Chattahoochee Technical College to learn more about automotive repair. Also earning a 4.0 in what was his second degree was Diesel Equipment Technology graduate Mark Kennedy of Acworth who helped to form a Student Veterans of American group at Chattahoochee Technical College during his last semester.
Each graduate had someone to thank or recognize for their support. Some waved or shouted to family from their seats and others, like Horticulture graduate Paula DeVane of   Calhoun, decorated their graduation caps with messages of gratitude.
Chattahoochee Technical College Georgia Occupational Award of Leadership (GOAL) winner Johntavious Johnson of Cartersville told the graduating class that they had made the right decision in continuing their education with a career goal in mind. Passionately telling his classmates of his own goals to become a nurse and his vision for the importance of a technical college education, Johnson earned a standing ovation at the end of his speech.
Graduation speaker and Technical College System of Georgia (TCSG) Assistant Commissioner of Administration Lisa Eason told each of the students that this was not the end of their journey in a speech that included quotes from President Lyndon Johnson, poet Maya Angelou and Apple Co-Founder Steve Jobs. She shared her own story of being a teen wife and mother with a 9th grade education as she struggled to earn her GED and eventually a degree in accounting. That journey has taken her from the textile mills of Tennessee and Georgia to the Georgia Department of Audits and TCSG. Comparing the graduates' lives to books, she challenged them to write their own ending.
"Your life is very similar to a book, and it can be a best seller," said Eason told the graduates. "Your graduation is just the end of one chapter, but there are more to come. The next chapter of your life begins with, 'I graduated from Chattahoochee Technical College, and…"
For more photos from the event, visit the college's official Facebook page here.