(Acworth, Ga. – June 13, 2014) For the approximately 60 students participating in the Chattahoochee Technical College Adult Education Recognition Ceremony Thursday, this was a celebration they missed out on in high school. The graduates represent just a portion of the hundreds of students who took GED examinations at Chattahoochee Technical College's numerous testing centers.
Most of these students were among the first group in the country to complete the GED test on computer. Georgia was the first state to launch the computer-based GED testing and Chattahoochee Technical College was in the first group to convert to that process as well. Additionally, many of these students completed the newly revised exam that launched January 1.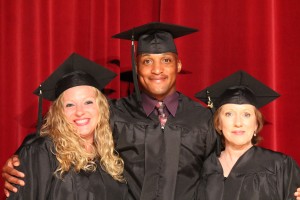 Thursday night's ceremony included three graduates who were selected by the program's instructors and administrators to tell their story about their journey. Speakers featured in this year's ceremony included Rebecca Bryson of Woodstock, Gregory King of Cartersville and Heather Ross of Canton. Each explained that certain sections of the test were the most troublesome, but they each have brighter futures planned with the new credential.
"In 2007 I passed every section except math," explained Bryson. "Math was hard and I couldn't afford a tutor. I let math scare me."
Bryson returned to classes at Chattahoochee Technical College in 2013 and focused on math.
"All I had to do was show up and study hard," she said. "Six months later I passed the GED. I never planned on going to college, but I just completed my first semester of college at Chattahoochee Tech."
Ross also said that math was a struggle for her, saying that she was not so sure of herself when she first walked into the classroom.
"I was scared and nervous that first day," Ross said. "But I found the potential in me and a will to succeed by going to Chattahoochee Technical College."
Ross has already found success with her GED, as she was promoted at work and recently moved into her own home with her children. She hopes to someday own a business which will help other struggling single moms change their lives and reach their goals.
King also wants to open his own business, having passed the GED in December. He has received a promotion at work, but said his main reason for wanting to pass the exams was that he felt incomplete.
"I felt like I was at a disadvantage to my peers and co-workers when a job would open up," King said. "Now I feel that doors are opening."
Without a high school or GED diploma a person will earn on average $7,658 less a year than someone with a secondary education credential. That number along with statistics of higher chances of arrest and jail time, poorer health, more troubled finances and lower self-esteem are all reasons that people turn to Chattahoochee Technical College for help to pass the General Educational Development test.
Chattahoochee Technical College offers free classes to prepare students for the exams, including placement testing and online resources. GED preparation classes are offered at no charge through Chattahoochee Technical College's Adult Education program at a variety of locations.
For more information about Chattahoochee Technical College and the college's Adult Education  Program, visit www.ChattahoocheeTech.edu/adult-education.
Check out some photos from the event here.