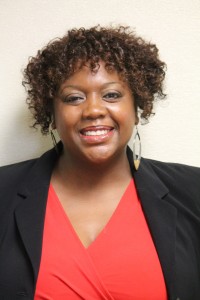 (Acworth, Ga. – June 9, 2014) Tamika Phillips knows that her role at Chattahoochee Technical College will be tough with the pressure to address the needs 50,000 adults of Bartow, Cherokee, Gilmer and Pickens counties who do not have a high school diploma. As the college's new Executive Director of Adult Education, Phillips will be overseeing the college's GED program, as well as other specialized programs for English Language Learners.
Phillips is a graduate of Troy State University in with a B.S. in Psychology and Human Services, a Master's in Community Counseling and currently a Ph.D. candidate at Argosy University in the Counselor Education and Supervision program. Busy with her work, education and the lives of her children, Phillips enjoys doing community activities with her sorority Delta Sigma Theta, singing at different events and painting at paint studios. She is also preparing to move from her current home in Muscogee County to a location closer to Chattahoochee Technical College in Cobb County.
For the past eight years, she has worked in adult education, including starting out as an instructor in the prison system originally and moving into administration since 2009.
"It happened by chance," Phillips said of her decision to go into the field. "I saw it as an opportunity to do the best of the things I was interested in doing. The more I started working with the students, the more I got into it."
Using her own background as a young mother and growing up in a single parent home, Phillips said she hopes she is relatable to students in the Adult Education classes at Chattahoochee Technical College. Most of the students she will be working with have their own stories and reasons that they want to take the steps to improve their opportunities through education. In her experience, she knows that coming back to school for either GED or ESOL classes can be a decision that is made with some fear.
"In my years of experience in adult education, I would have to say for many the hardest part about coming back is their fear of the unknown," said Phillips. "This is why the tone you set when they call to inquire or walk through the doors is so important because a positive voice and encouraging words go a long way and help alleviate some of those fears."
Chattahoochee Technical College offers free classes to prepare students for the exams, including placement testing and online resources. GED preparation classes are offered at no charge through Chattahoochee Technical College's Adult Education program at a variety of locations.
Without a high school or GED diploma a person will earn on average $7,658 less a year than someone with a secondary education credential. That number along with statistics of higher chances of arrest and jail time, poorer health, more troubled finances and lower self-esteem are all reasons that people turn to Chattahoochee Technical College for help to pass the General Educational Development test.
The GED test provides adults at least 16 years of age who are beyond the age of compulsory high school attendance under state law with an opportunity to earn a high school equivalency diploma. In order to pass the GED test, a student must pass a series of four tests in reasoning through language arts; mathematical reasoning; science; and social studies. Successfully passing these sections demonstrates that the student has acquired a level of learning that is comparable to that of high school graduates.
In her eight years in adult education, Phillips said change is the one thing she has come to expect. That change can bring unexpected challenges and benefits.
"Change can be negative and positive," said Phillips. "For example, one major change is a cut in funding from the state and federal government. A decrease in funding for Adult Education means a decrease in staffing, a decrease in the number of days we offer classes, a decrease in the number of sites we provide services, and a decrease in enrollment. This impacts our community and our students negatively. An example of a positive change is a change in the 2014 GED test. This is a positive change because it has caused a shift in how we teach and prepare our students not just for the test but for college and careers as well."