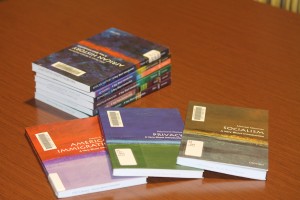 (Marietta, Ga. – June 5, 2014) Sometimes a little goes a long way – at least that is what the Chattahoochee Technical College Library is promoting this summer with the addition of hundreds of little books on a wide variety of subjects. The Oxford University Press series of Very Short Introductions will provide students with basic knowledge for any subject area needed for classes or personal development. Available at each of the Chattahoochee Technical College campus libraries, the books are going to be highlighted this summer with hopes to introduce students and faculty to some of the resources available on campus.
"We love them," explained Chattahoochee Technical College Librarian Karen Preslock. "They are authoritative and they are very short. I can bring myself or a student could bring himself up to speed on a subject very quickly."
The books, which average around 120 pages, are fully indexed and are small enough to be carried in a pocket or purse. More than 300 titles are currently available among the campus libraries, but it is not just the basic topics that students will find useful, according to CTC Librarian Jeff Fisher. Written by experts in their respective fields, the books provide concise and valuable information that students can use for research projects or papers or to prepare for new classes and tests. Topics range from the arts and humanities, law, medicine and health, science and mathematics to the social sciences.
Chattahoochee Technical College offers a library at each of its campuses, plus a resource room at the Austell Campus. Hours vary by location and can be found at www.chattahoocheetech.edu/library-contacts-and-hours/ . In addition to a wide variety of resources for students in both online and hard copy formats, the college provides students with computers, printers and photocopiers, tables for group study, carrels for individual study, and quiet study areas or group study rooms. Additionally, students can find answers to many questions through Library Answers, at libraryanswers.chattahoocheetech.edu/, which updates the most frequently asked questions about services and resources with information provided by each of the college's librarians.
For more information, visit www.chattahoocheetech.edu/library.