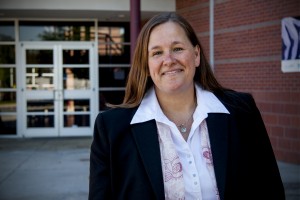 (Acworth, Ga. – May 14, 2014) Georgia native Ashley Wilson first learned about the role of a Physical Therapist Assistant (PTA) while working at an out-patient physical therapy clinic in Marietta about 10 years ago. However, it was not until recently that she graduated from the popular Chattahoochee Technical College program. She was one of 16 students to complete the program this semester and participate in convocation to honor graduates.
"While attending a program for clinical massage therapy, I obtained a job as a front/back office clerk for a local outpatient physical therapy clinic in Marietta," said Wilson, who lives in Woodstock. "The clinic employed an amazing PTA. It quickly became apparent to me that the role of a PTA embodied more of what I was looking for as a clinician."
There was no program for Physical Therapist Assistants in the area at that time, so Wilson honored her commitment to the program she had been a part of and began a career in neuromuscular massage. In 2008 she opened her own business in Woodstock. It was while marketing that business that she learned of the then new program at Chattahoochee Technical College.
"I was excited to hear that a program had been started so close by as previously the closest location was in Athens," she said. "I began doing some research that evening and discovered that not only was the program located at the Acworth location, but it had a stellar reputation.  Within days I was gathering copies of transcripts and applying for Chattahoochee Tech to begin my prerequisites."
Wilson said she is proud to now say that she is a graduate of Chattahoochee Technical College's Physical Therapist Assistant program. For 16 months she and her cohort studied anatomy, physiology and kinesiology, as well as pathology. Included in the program are hands-on applications of treatments/modalities. Under Program Director Dr. Stephanie Puffer, a high standard is set for her students, and Wilson believes that this is in part why this particular PTA program is so successful.
Throughout the program the overarching message to students is one of professionalism.
"When a student graduates from this program not only are they prepared clinically to be highly successful PTAs," said Wilson. "But they are also poised to project a level of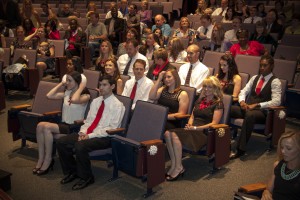 professionalism that has become expected of graduates of this program by others the healthcare community."
Right now Wilson is concentrating on the board exams in July, but her plans are to work in geriatrics. She already has some experience after 16 weeks in clinical rotations, including Wellstar Kennestone Hospital, Physiotherapy Associates in Dunwoody and Presbyterian Village in Austell. While her interest in geriatrics had been solid beforehand, Wilson said the eight weeks she spent working with senior citizens at Presbyterian Village cemented that goal.
Demand for Physical Therapist Assistants remains high. She and the other students graduating from the program have already had their own job fair with multiple healthcare providers attending to talk to graduates.
"That demand combined with the reputation in the therapy community of the quality of PTAs produced by this program, I do not expect to have any difficulty finding the job of my dreams and to be ready to begin working immediately after receiving my state license," she said.
This cohort, which began in January 2013, will celebrate together in June at the college's official graduation ceremony and will sit for licensure exams in July.
The Physical Therapist Assistant program is a sequence of courses that prepares students to work under the direction and supervision of physical therapists during the provision of physical therapy services. The program includes a combination of didactic and clinical instruction.  Program graduates receive an Associate of Applied Science degree and are eligible to sit for a state administered national licensure examination for physical therapist assistants. The program is only one of four in the state and is offered at the North Metro Campus of Chattahoochee Technical College. After prerequisites and admission, the program includes four semesters of occupational classes.