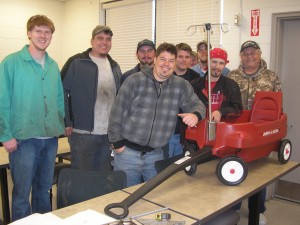 (Jasper, Ga. – May 22, 2014) The idea of Little Red Wagons being used in hospitals is not a common concept, but with a special project from Chattahoochee Technical College welding students it will be a practical one at Children's Healthcare of Atlanta. Welding and Joining Technology Instructor Dave Taylor has been working on a concept with his students for more than a year that would make transporting children with their IV poles or other equipment easier in a hospital setting.
"We needed to create something that would be sturdy and usable," Taylor explained of the bracket that was recently approved. "It had to fit the current equipment of both the wagon and the IV pole, but it also had to stand up to trips from the hospital room to testing labs, radiography or any other place in the hospital."
What resulted was a bracket that can slip over the end of the wagon and includes a flat side that will allow patients to sit comfortably. The other side allows a standard IV pole to sit securely in the bolted bracket, freeing parents' hands to transport their children easily.
The idea for the project was first presented to Taylor by Pickens County resident Grant Little and Lewis Holland, who approached the Chattahoochee Technical College welding program to take the lead in fabricating and prototyping several different versions of these brackets. The finished bracket is the fourth revision and is meeting with rave reviews. Additionally, Royston Industries donated material to build the brackets, and Southern Fire donated waterjet cutting time for future run of these brackets.
According to Taylor, the project was more than just an exercise in the skill of welding. All of the students who participated in this project developed a business plan and understand the implications of business startup. The students who are graduating this semester have been a part of the project from the start.
With classes taught at the Appalachian Campus of Chattahoochee Technical College in Jasper, the Welding and Joining Technology Program includes training in shielding metal arc, oxyacetylene, tungsten inert gas, metallic inert gas, oxyfuel gas cutting, plasma arc cutting, and gouging. Students learn about metals, electrodes, and filler materials. In addition to classroom training, major emphasis is placed on the development of welding skills through actual hands-on practice. A full-time student who needs no preparatory coursework in English, math or reading and maintains satisfactory progress can complete the Welding and Joining Technology Diploma in four semesters.