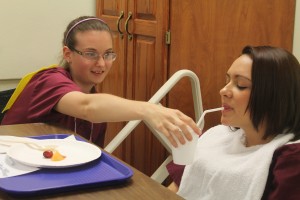 (Marietta, Ga. – May 16, 2014) Preparing for an exam is not usually fun, but for a group of Nursing Assistant graduates at Chattahoochee Technical College it was a few hours of games, races and competition. The competition, which took place Wednesday, May 14, at the Marietta Campus, featured a variety of events that included skills graduates learned during their time at CTC.
"We started with work stations testing skills such as hand washing and infection control, and worked up to more complicated skills, such as bed making," said Chattahoochee Tech CNA Program Coordinator and Instructor Linda Ferrick. "They were judged according to the efficiency of completing the skill and the time it took."
Students graduating with this certificate in June took classes at the Marietta and North Metro campuses. For the competition participants were teamed by their former campuses and started off with the first phase of the competition – hand washing. Students were ranked by time and skill performance to determine roles for the next phases. The final round determined the top campus. Judges included instructors from the program.
"CNA's are the backbone of the health care team," said Ferrick. "They do the majority of direct patient care, such as bathing, dressing, feeding, grooming, and hand-holding. It is very important that the CNA has a foundation in anatomy and physiology, understanding disease patterns and processes, infection control, first aid, and psychology. Through Chattahoochee Tech's program, they have this, plus the tutelage of a team of instructors grounded in caring for their community."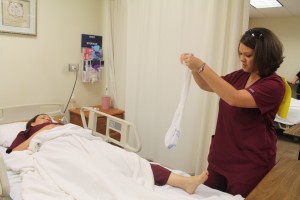 Top campus honors went to the Marietta Campus team who completed the final skill – a bed bath relay – only seconds before their competition. A North Metro Campus student won for her overall performance. Rachel Yoakum of Dallas completed her individual task of applying compression stockings to a patient in the shortest amount of time with no mistakes in the procedure.
Chattahoochee Technical College offers different options for students wanting to enter the healthcare field as Certified Nursing Assistants. Students wanting to earn a technical certificate of credit can register for the Healthcare Assistant Program at several of the college's campuses. Students can choose from three program tracks, including nursing assistant, medical coding and central sterile processing to prepare for careers in those areas. The program also provides foundational courses for those wanting to continue their studies in one of the many health science related programs at Chattahoochee Technical College. The college's department of Community and Economic Development also offer non-credit options for those wanting short-term training to become a CNA at several of its campuses.
Job outlook statistics are hopeful for graduates in the CNA field. According to the Occupational Outlook Handbook, the field is expected to grow by 20 percent from 2010 to 2020. Those in the field provide basic care for patients in hospitals and residents of long-term care facilities, such as nursing homes. According to Ferrick, demand in the community is high.
"I have requests at least once a week from agencies, nursing homes, and hospice for CNA graduates from this school," said Ferrick. "Employers have stated they feel very confident in hiring our graduates."