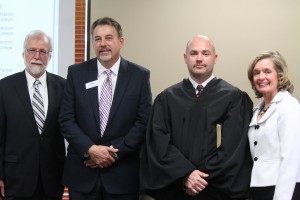 (Marietta, Ga. – April 16, 2014) Chattahoochee Technical College welcomed its newest board member Tuesday. Gerald "Gerry" Nechvatal of Pickens County was sworn in by the Honorable David Lindsey, probate judge and associate magistrate court judge in Pickens County. Nechvatal is currently the director for economic development in Pickens County and the City of Jasper.
"We are fortunate to have this addition to the board of directors," said Chattahoochee Technical College President Dr. Ron Newcomb. "His knowledge of workforce development and importance of technical education in this community is vital and will fit well with the board members in place."
Nechvatal is a graduate of the University of Georgia with a degree in Business Administration. He has served in his current position with Pickens County since 2008. In addition, Nechvatal serves as the chair of the Pickens County Work Ready Committee, past chair of the Pickens Chamber of Commerce Tourism Committee and a member of the Northwest Georgia Employers Committee, among other civic and community projects.
Chattahoochee Technical College currently has 16 members on its Board of Directors, which meets eight times a year. Chattahoochee Technical College's board serves both in a community advisory capacity and in a limited administrative capacity, performing certain oversight responsibilities as designated by state board policy. The local board is comprised of members from the business and industrial communities from six counties in the service area (Bartow, Cherokee, Cobb, Gilmer, Paulding and Pickens counties). Board members are selected because of their experience, ability, and dedication to deal with issues that relate to the mission of the college.