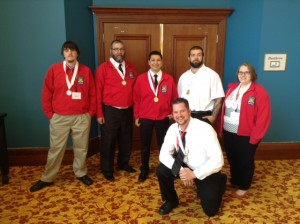 (­­­­­­­­­­­­­­­­­­­Marietta, Ga. – March 24, 2014) With its largest team, Chattahoochee Technical College saw 17 Chattahoochee Technical College students testing their skills against students from around the state in a multiday competition at the Georgia International Convention Center. Vying for gold, silver or bronze at the state level of SkillsUSA, these students competed in 12 different contests on March 14.
"Students showcased the technical skills they are learning at CTC and the leadership skills they are developing," said Automotive Instructor and SkillsUSA Advisor Kevin Ruby. "We assembled a team of talented and bright individuals who represented the college, themselves and their industries well."
Among those who competed for Chattahoochee Technical College:
Chris Arrant of Powder Springs in Diesel Equipment Technology
Michael Callahan of Marietta in Electrical Construction Wiring
Caroline Colbert of Kennesaw in Food and Beverage Services
Wesley Fortier of Marietta in Heating Ventilation and Air Conditioning
Fortino Hernandez Castillo of Acworth Industrial Motor Control
Wes House of Kennesaw in Motorcycle Service Technology
Alexa Izzet of Jasper Culinary Arts
Mark Kennedy of Atlanta in Diesel Equipment Technology
Jenny Kiewat or Canton in Culinary Arts
Michael King of Canton in Motorcycle Service Technology
William Lazar of Carrollton in Automotive Service Technology
Madison Liston of Marietta in Esthetics
Taryn Mooney of Blue Ridge in Cosmetology
Whitney Robledo of Alpharetta in Extemporaneous Speaking
Richard Secrist of Kennesaw in Motorcycle Service Technology
Stella Taylor of Austell in Food and Beverage Service
Melissa White of Kennesaw in Commercial Baking
Medalists included Castillo, who received Gold in Industrial Motor Controls,  and Secrist who received Gold in Motorcycle Service Technology. Silver medalists included King in Motorcycle Service Technology, Robledo in Extemporaneous Speaking and Kennedy in Diesel Equipment Technology. Arrant received a Bronze medal in Diesel Equipment Technology.
SkillsUSA is a national organization serving high school and college students and professional members enrolled in training programs in technical, skilled, and service occupations, including health occupations in high schools and technical colleges. SkillsUSA sponsors competitions across the United States.  Students begin by competing locally and continue to state and national contests if their scores advance them. Castillo and Secrist, who received first place honors in their respective skills contests, will advance to the national competition in Kansas City this summer.