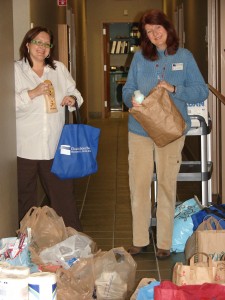 (Jasper, Ga. – March 13, 2014) Students, faculty and staff from Chattahoochee Technical College's eight campuses have collected toiletries, paper supplies and other items for Pickens Cares, an organization within the college's service delivery area. All items donated to the college through the drive will be delivered to the organization to be used in its mission to provide food and essential non-food items, temporary financial assistance and resource counseling for those in need residing in Pickens County.
"We received hundreds of items," said Chattahoochee Technical College Sociology Instructor Leigh Keever. "The generosity of faculty and staff members was wonderful to see, but I was most impressed with the way my students participated. They banded together and brought in so many items that can be used by people in need."
Organized by the college's Service Learning Committee, items were solicited and collected for about one month before the final donation to the organization in March. The committee is made up of faculty and staff members who coordinate efforts with Chattahoochee Technical College's Center for Service Learning and Community Engagement­ Chattahoochee Technical College uses the service learning model to combine academic instruction with service in the community. Projects range from children, animals, health, seniors/elder care and the environment to many others. Next month the college will host its second community seminar on Child Sexual Abuse and Exploitation. To register for the free 2-day seminar or learn more about the college's efforts with service learning, visit www.chattahoocheetech.edu/service-learning/.