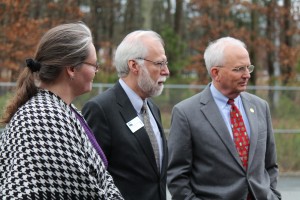 (­­­­­­­­­­­­­­­­­­­Acworth, Ga. – Feb. 5, 2014) While spring is several weeks away, Georgia's Agriculture Commissioner Gary Black paid a visit to two of Chattahoochee Technical College's programs that have a focus on nature. Chattahoochee Technical College President Ron Newcomb welcomed Black and escorted him on a tour of the North Metro Campus facilities to chat about the importance of the Environmental Technology and Horticulture programs to the economic development of the region.
"We've got to have a trained workforce that can compete locally and globally," Newcomb said after the tour. "We must continue to focus on technology and programs like Horticulture and Environmental Technology to develop that workforce in this area."
Chattahoochee Technical College offers both degree and diploma programs in Horticulture, focusing on general and occupational courses. Also available are several certificate level specializations including Landscape Specialist, Lawn Equipment Repair, Sustainable Urban Horticulture Technician and Landscape Design Technician.
As one of its newer programs, Chattahoochee Technical College also offers Environmental Technology. Offered at the associate degree level, the 70-credit hour program is now available at the North Metro Campus in Acworth. The program has been designed to offer specialized training to those interested in career opportunities in the environmental science related fields, focusing on water quality.
"You know what your mission is here at Chattahoochee Technical College," Black told reporters and college officials. "The faculty is on target with hands on, practical instruction. The benefit is that people leave here with a job."
For more information on programs, admission and financial aid, call 770-528-4545 or log on to www.ChattahoocheeTech.edu.