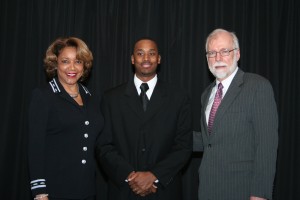 (Marietta, Ga. – Jan. 24, 2014)
Chattahoochee Technical College named Reading Instructor Judy Cannon of Smyrna and Practical Nursing Student Johntavious Johnson of Cartersville as the college's best. The two were selected from dozens of nominees to represent the college in regional and state competition. Johnson won the prestigious Georgia Occupational Award of Leadership (GOAL) while Cannon was named the college's first  ever Carnegie Professor of the Year.
Johnson does not plan on stopping his education with his practical nursing diploma that he is working to earn at the North Metro Campus of Chattahoochee Technical College. He told the audience he wants to work toward a bachelor of science in nursing and eventually a masters of science in nursing.
"Practical nurses are more than drug administrators," Johnson said in his speech to the audience Friday. "They are teachers and patient advocates."
Now in its 43rd year, GOAL, a statewide program of the Technical College System of Georgia, honors excellence in academics and leadership among the state's technical college students. GOAL winners are selected at each of the state's technical  colleges, as well as the Board of Regents colleges with  technical education divisions.
A new award made its debut at this year's ceremony. The    Professor of the Year Award doubles as the college's entry to the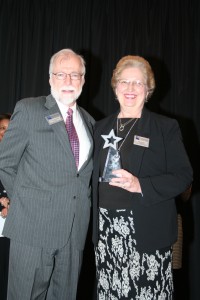 statewide award competition of the Rick Perkins Award for instructors. More than 25 instructors were nominated for the award with the field being narrowed down to eight who were interviewed and evaluated.
Cannon, who teaches reading to the college's learning support students, said she has known from an early age that she   wanted to be a teacher.
"I love teaching learning support students and helping them move into regular college classes," said Cannon. "I'm able to motivate my students to continue on their paths to achieve their goals. It is so wonderful to be able to come to work every day to a job I love and know that I'm making a difference in the lives of my students, just as they are making a difference in my life."