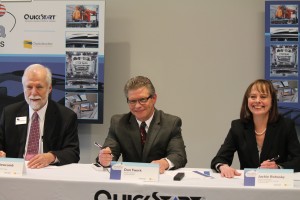 (Acworth, Ga. – Dec. 17, 2013) – Inalfa Roof Systems, a leading global supplier of vehicle roofing systems, is investing $17.1 million in a new manufacturing facility in Cherokee County. The plant is expected to create 300 jobs for Georgians, and the company is working with Quick Start and Chattahoochee Technical College to train its new workforce.
"Georgia was recently named the No. 1 state in the nation for doing business," said Jackie Rohosky, Technical College System of Georgia assistant commissioner for economic development programs and head of Quick Start. "New investment in the state by global manufacturers like Inalfa is one reason why."
Inalfa is based in The Netherlands. This is the company's fourth U.S. facility, and its first in the Southeast. Employees at the new facility will manufacture sunroofs and other roofing systems for automotive manufacturers.
Quick Start's training for Inalfa will include job-specific process training in material handling, frame assembly and glass assembly. Core skills, leadership and quality training are also being provided. Chattahoochee Technical College, the third partner in the training agreement, will be available to provide ongoing workforce support and services to Inalfa.
"We are pleased to welcome Inalfa to this community," said Dr. Ron Newcomb, president of Chattahoochee Technical College. "Partnerships with companies like Inalfa will continue our mission toward developing a strong and educated workforce. There is no bigger draw to a community than that."