(Marietta, Ga. – Dec. 16, 2013) More than 900 graduates of Chattahoochee Technical College were honored in a ceremony at the Cobb Energy Performing Arts Centre Monday with approximately 250 walking in the ceremony.  The celebration held on Dec. 16 at 1 p.m., honored those completing their programs of study during the summer and fall semesters, including 41 students who completed an associate of applied science or diploma program with a 4.0 cumulative grade point average.
Among the graduates was Larry Davis, a resident of Atlanta who originally chose to attend Chattahoochee Technical College for its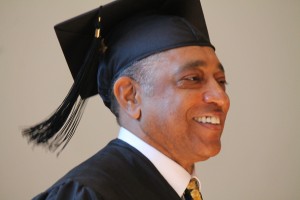 award winning Television Production Program. Davis chose to focus instead on the college's web development program, which later transitioned to the degree he earned in Web Application Development. Through the program, Davis was able to learn more about website design and development, as well as applications for tablets and smartphones.
"I was in the Web Design Program when Chattahoochee Tech was beginning a new program called Web Application Development," said Davis. "Students in the Web Design Program were given the option to stay in that program to finish or move over to the new Web Application Development Program. Web Application Development is a blend of web design and software programming, and takes care of all technical details of creating a functioning website that includes – software programs, interface design, and everything that needs to connect to the website to make it function as desired. I did some research of the job marketplace and saw that a Web Developer was in great demand. So, I made the switch to Web Applications Development."
Davis has worked in the computer programming portion of the information technology field for many years, also exploring his interests in music, automotive sales, real estate, and others. Since first attending the college in 2010, Davis has worked in the Federal Work Study Program in both Career Services and in External Affairs. Davis was the only student selected as part of the implementation team for the college's new website that was unveiled earlier this year.
"I have really enjoyed my time here at Chattahoochee Tech," said Davis. "It has been a rewarding experience in many ways. I had good instructors, great co-workers, and I have met many nice people here at the school. I'm a little older than most students here and maybe my focus was more laser focused than some, but none the less, I believe you can accomplish anything you set your mind to accomplish, and even if you miss, what a great road trip!"
Popular programs for graduates this term include Accounting, Early Childhood Care/Education; Health Sciences (LPN, Medical Assisting, Medical Administrative Assistant, Surgical Technology, Healthcare Assistant).
This semester's graduation speaker was State Rep. Christian Coomer (R-Cassville). Coomer represents portions of Bartow and Floyd Counties. He is a graduate of Lee University, Cleveland, Tennessee, and the University of Georgia Lumpkin School of Law, Athens. Coomer served four years on active duty in the United States Air Force Judge Advocate General (JAG) before opening his own law practice in Bartow County. He still serves as an Air Force Reservist attached to the Jeane M. Holm Center at Maxwell Air Force Base, Alabama, where his duties include advising the national commander of the Civil Air Patrol (CAPUSAF) and the commander who administers the Air Force ROTC programs across the nation.
Coomer, who told the students that he had never spoken at a graduation before this, took a photo of the students who had received either the HOPE Grant or Scholarship. He promised to share the photo with his fellow legislators, including Gov. Nathan Deal. Coomer was one of several legislators who worked to return the GPA requirement from 3.0 back to its original 2.0 for HOPE Grant recipients.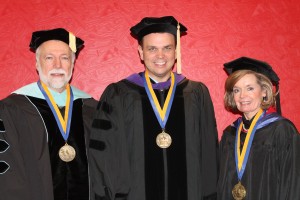 "You are now entering the some of the most in-demand careers in Georgia," Coomer said in his speech. "There will be 60,000 vacancies in just four of these career areas over the next five years. You're setting yourself up to carry the economy of Georgia into the future."
Offering advice to the graduates about becoming a mentor and serving the public, he offered one final suggestion that drew applause from many of the parents in the audience.
"Remember just how much you don't know yet," he said. "When you arrive at your new job, you won't be expected to know everything. Don't pretend that you do. They'll be more impressed if you have a teachable attitude."