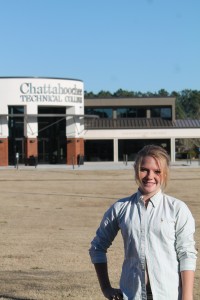 (Acworth, Ga. – Dec. 18, 2013) Seeing her friends and classmates she grew up with graduate from high school was a deciding factor for Marlee Hardin to go back to school for her GED. The 18 year old from Emerson had attempted online versions of the classes and tests, but realized that they were not accredited. That's when she began attending the free classes at Chattahoochee Technical College's North Metro Campus in Acworth.
Hardin was recently named Chattahoochee Technical College's Exceptional Adult Georgian in Literacy Education (EAGLE) student, an honor earned by those who are studying for their GED through CTC's Adult Education program. As the Chattahoochee Technical College EAGLE, Hardin will compete against others across the state and attend the annual EAGLE Leadership Institute in 2014.
Hardin, whose family includes her father, step-mother, a sister and two brothers, plans to attend college after she earns her diploma this spring. While she originally considered a career in cosmetology, she's now interested in pursuing a career in criminal justice. She credits her time in the Adult Education Program at Chattahoochee Technical College with giving her the confidence and knowledge to proceed with higher education.
"I didn't realize that I was capable of doing it," she said. "I spent a lot of time in high school thinking I wasn't smart enough or that I was lazy. But I've learned that I'm smarter than I thought I was. I really can do this."
Hardin is a native of Bartow County and attended South Central Middle School and two years at Woodland High School. She currently works as a waitress in Emerson and spends her free time running or spending time with her friends and family. She also enjoys singing, having been a contestant several years in the annual Every Child's A Star talent competition.
"I'm excited to have this opportunity to represent Chattahoochee Technical College," Hardin said.
Representing CTC's North Metro Campus Adult Education Program, Hardin competed for this year's Chattahoochee Technical College EAGLE position with students from across the service delivery area. The Adult Education students were evaluated through a speech and interview process.
"The candidates are excellent representatives of adult education and should be congratulated for their accomplishments," said Executive Director for Adult Education Jon Collins. "It was a difficult choice, but the judges selected Marlee Hardin to represent Chattahoochee Technical College at the next level of the EAGLE competition. We know she'll do well and be a wonderful example of the hard work and determination she has shown."
EAGLE is the first statewide program in the nation that recognizes and rewards excellence among students enrolled in the adult education and literacy programs. This student recognition program is designed to create greater awareness of educational opportunities that are available in local communities across the state and to foster greater involvement in lifelong learning pursuits.
Chattahoochee Technical College offers free classes to prepare students for the exams, including placement testing and online resources. GED preparation classes are offered at no charge through Chattahoochee Technical College's Adult Education program at a variety of locations in Bartow, Cherokee, Gilmer and Pickens counties.
For more information about the location nearest you, visit www.chattahoocheetech.edu/adult-education.com.