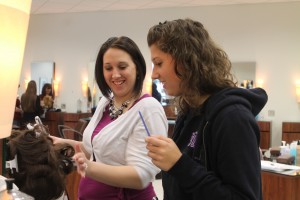 (Jasper, Ga. – Nov. 22, 2013) With months to go until they wear caps and gowns for high school graduation, a group of more than 100 seniors from Gilmer and Pickens counties converged on Chattahoochee Technical College's Appalachian Campus to learn more about its programs and how to reach their academic and professional goals. While they may have expected the experience to include classrooms and taking notes, the students were able to join in with experiments that included ice cream sundaes, art projects and a chance to learn how to use equipment in the cosmetology lab.
The students from the two high schools started the day with discussions on admissions, financial aid and picking the right college or university. The students also had the opportunity to visit three programs and participate in discussions about the field, ask questions about job possibilities and even try their hands at some new skills in nine selected programs of study.
"We've designed the day to help prospective students learn about the diverse range degree, diploma and certificate programs we offer and find an area of study that fits their needs and aspirations,"  explained Recruiter Brookeanna Herring. "From our technical and health care programs to business programs and general education, we have something that each of these students can benefit from and learn here at Chattahoochee Technical College."
Chattahoochee Technical College offers Senior Day visits at several of its campuses throughout the year, allowing high schools to bring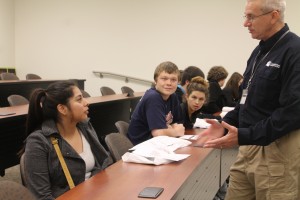 interested students by for a taste of college life. Additionally, the college provides individual tours and information sessions by appointment, as well as participating in many other local events.
"Some students come in with a preconceived idea of who we are and what we offer," said Herring. "At the end many told us that they were surprised at how many classes and programs are offered so close to home and at an affordable cost."
For more information on Chattahoochee Technical College or to see one of its campuses, call 770-528-4545 or visit www.ChattahoocheeTech.edu.