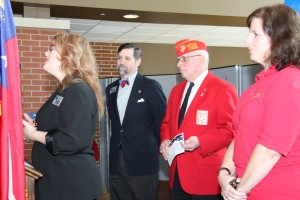 (Marietta, Ga. – Nov. 13, 2013) In an event to honor the hundreds of US Military Veterans at Chattahoochee Technical College, the attention turned to one and the impact his story has had on his former instructor and the community. Marine Corporal Scott MacKenzie had no Plan B for his life after he was medically retired at age 23 after a road side bomb caused his traumatic brain injury in Iraq. But he knew he would need an education, according to his mother.
"He was one of a kind," said his mother, Nan MacKenzie as a keynote speaker at the event. "I was honored to be his mom for 26 years."
As a student at Chattahoochee Technical College, he took a class from Business Management Instructor Diane Petty. And two years after he took his life, Petty and her students decided that the Project Management class would honor him and all the other veterans at the college with a ceremony on Nov. 12. However, a last minute surprise meant even more to celebrate.
"I received the phone call just yesterday morning," said Petty, who teaches students in the class planning, resource allocation, negotiation and other essential elements of project management. "The local representatives of the Marine Corps League had read about the scholarship we wanted to do in Scott's honor and wanted to make a donation."
The Marine Corps League donated $1,000 to the Scott MacKenzie Memorial Scholarship through the Chattahoochee Tech Foundation.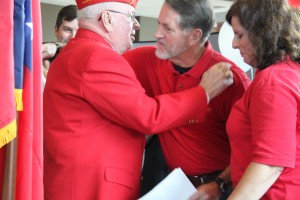 The money will be used for scholarships for military veterans coming back to school after their service. As Marine Corps League member John Newport took the stage, he explained that he had met the MacKenzies before at the funeral of Scott MacKenzie to give them a certificate for their son's service.
"I came away feeling inadequate," Newport said of the experience. "Now we have this chance to make this donation because he was one of us. He was a Marine."
The event, which was held in conjunction with the Cobb Education Consortium, included a welcome by CTC President Dr. Ron Newcomb, a presentation by the Lassiter High School JROTC, the singing of the national anthem, a MIA/POW ceremony, a keynote speech by Robert and Nan MacKenzie and a benediction before a light lunch.
Petty said the class and project are designed to give students the experience of managing a project from start to finish. Many former graduates tell her they include information about their own capstone projects as part of their resumes and portfolios. Petty normally assigns a project that gives back to the community, this time choosing the Veteran's Day Ceremony. The service learning model helps reinforce ideas that would otherwise just come from class discussions and reading assignments
"We all loved the idea when we heard it," said student Danielle House of Talking Rock. "The plan is to continue it for years to come. That means we'll be setting the standard as the initial class."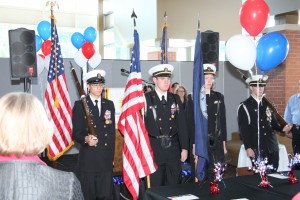 Petty is not only leading her students on this project, but helping to promote and coordinate a scholarship in Scott Mackenzie's honor with the Chattahoochee Tech Foundation. A corporal in the United State Marine Corps, he and several members of his team were injured in a roadside attack while serving in Iraq. Among the severe injuries he suffered was a traumatic brain injury and was given a medical discharge after being diagnosed with Post Traumatic Stress Disorder. On Sept. 29, 2011, he lost his battle with PTSD and ended his life.
The planning and coordinating of the event has been a great experience, according to Charles Murphy of Ball Ground. But he would not describe the process as easy.
"The challenge has been how best to honor veterans," said Murphy. "We're trying to come up with ideas that best fit what these men and women have done and how they have served this country."
View more pictures from the event here.