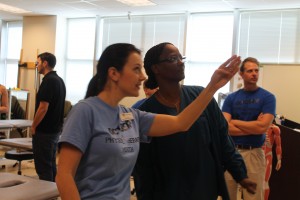 (­­­­­­­­­­­­­­­­­­­Acworth, Ga. – Oct. 22, 2013) Exercise – even the simplest form – is important. That was the message from Physical Therapist Assistant students at Chattahoochee Technical College delivered when they hosted an open house and group exercise class Oct. 21.
"National Physical Therapy Month (NPTM) is celebrated each October; designed to recognize the impact that physical therapists and physical therapist assistants make in restoring and improving motion in people's lives," Chattahoochee Technical College Program Director Stephanie Puffer said. "A physical therapist assistants' education, clinical skills and 'hands on' approach brings a unique, individualized approach to improve the quality of life for each of their patients.  The PTA students planned and organized this event as an opportunity to reach out to fellow students, faculty and staff to educate them about the profession and our program in particular."
From trying out the equipment and testing their balance on a Nintendo Wii to stretching and jumping jacks to the tunes of Michael Jackson and Beyonce, there was something for everyone at the event. Also on hand were the program's 36 students, who take classes on the college's North Metro Campus in Acworth but drive sometimes for hours to be a part of one of the college's most academically competitive programs. Graduating classes from the program have a solid history on the licensing exam, earning a 100 percent first time pass rate.
It is the record of the perfect pass rate and dedication of the students in the program that have made it successful, according to Puffer.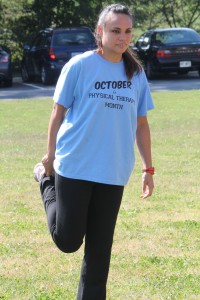 The Physical Therapist Assistant program is a sequence of courses that prepares students to work under the direction and supervision of physical therapists during the provision of physical therapy services. The program includes a combination of didactic and clinical instruction.  Program graduates receive an Associate of Applied Science degree and are eligible to sit for a state administered national licensure examination for physical therapist assistants. The program is only one of five in the state and is offered at the North Metro Campus of Chattahoochee Technical College. After prerequisites and admission, the program includes four semesters of occupational classes. Known for its high placement rate and successful graduates, the program teaches students the critical skills for the field.
"A good PTA thinks critically, displays compassion and is interested in a hands-on career working with patients," said Puffer. "A big part of their job is educating patients and family members so an ability to communicate and motivate is equally as important."
View more pictures here.