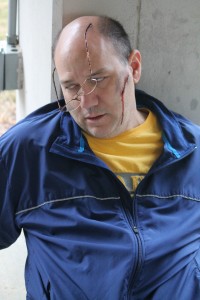 (Acworth, Ga. – Oct. 28, 2013) Students in Scott Anderson's EMT class at Chattahoochee Technical College were not expecting the scene they arrived at Monday morning. Responding to a surprise mock disaster drill, the students raced through the rain to a covered area between buildings to find victims of a bombing strewn about with various levels of injuries and ailments between the debris.
"The traffic noises, people yelling for help, sirens blaring and other students trying to get to class are all added in for the distraction," said Anderson. "In a real life emergency there would be many factors that could affect the focus of medical professionals. This is a scenario straight out of the news with the Boston Marathon Bombing. The possible scenarios are endless. By holding drills like this we are able to allow students to practice what they are learning in the classroom. They will remember this experience much more than a traditional lecture or test."
Students were dropped off at the disaster site and then asked to assess more than 40 victims who were scattered throughout the area. Victim,s who wore costumes and theatrical makeup to enhance their injuries, were from health science programs at the college including health information technology, physical therapist assistant, radiography and others. Each victim had a card that detailed injuries that ranged from impalements and missing limbs to more minor wounds. Students were asked to assess and triage the victims all while experiencing the drama of people screaming in pain and begging for help.
Students in the class were a bit surprised to see such a dramatic scene, but quickly jumped into action.
"We've been talking about situations like this in class," said student Lauren Wright of Dallas. "But seeing it in action was different. It really showed us how difficult it can be to do this as fast as it needs to be done and with accuracy when there are so many people needing help."
This diploma level program is taught at the college's North Metro Campus in Acworth, consisting of 45 credit hours of classroom and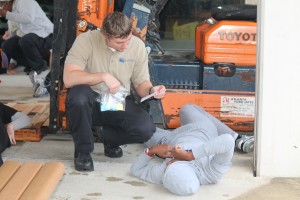 clinical work. The program covers both the U.S. Department of Transportation Emergency Medical Technician Curriculum and the Advanced Emergency Medical Technician Curriculum. Successful completion of the program allows the graduate to take both the National Registry of Emergency Medical Technicians EMT and AEMT certification examinations and receive Georgia licensure as an Advanced EMT.
A new cohort of students will begin the program in January, which can't happen soon enough, according to Anderson.
"The predictions are that by 2015 Georgia will lose 50 percent of its field paramedics due to retirement, job change or promotion," he said. "There is significant work under way to develop a community paramedic certification that will allow paramedics with that training to work similar to a physician's assistant. This is in response to the number of patients being transported by ambulance to the hospital for care that could and should be handled at home. The industry is about to bust open at the seams."