(­­­­­­­­­­­­­­­­­­­Marietta, Ga. – Oct. 10, 2013) While the decorations of the season call for pumpkins and bales of hay, Chattahoochee Technical College's Interiors students got into the holiday spirit a little early. The students in the Interior Design Club volunteered to help decorate the Cobb Civic Center for the annual Mistletoe Market.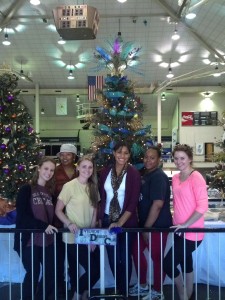 "It was a great chance for the club to participate and transform the space into a holiday wonderland," said Instructor Ginger Burton. "The event is the Junior League of Cobb-Marietta's largest fundraiser of the year."
Students unloaded boxes of decorations, set up trees, hung garland and added creative touches to complete the winter atmosphere. Additionally, the club members showcased their talents by sponsoring a tree. Using a theme of "Feathering the Nest," the team used peacock feathers and associated colors. The tree was decorated by re-purposing interior design and architectural samples of paint swatches, fabric cuttings and laminates. The group also handmade ornaments and filled the tree using a minimal budget.
The club's decorating talents will be on display at the Mistletoe Market, a three-day shopping event, which hosts merchants from the greater Atlanta area and beyond who showcase the latest trends in apparel, accessories, jewelry, children's clothing, holiday gifts, home and garden décor, and gourmet foods. The 2013 Mistletoe Market is being held at the Cobb County Civic Center and open to the public on Thursday, Oct. 10 through Saturday, Oct. 12, 2013. Shopping hours are from 9:30 a.m. to 6 p.m. on Thursday; 9:30 to 6:30 p.m. on Friday and 9:30 a.m. to 4:30 p.m. on Saturday.
Offered at the both diploma and degree level, the Interiors Program provides a foundation for career opportunities in such areas as the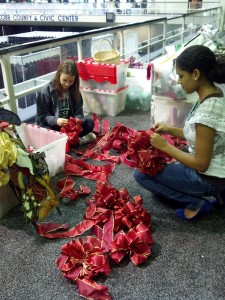 retail sector, architecture and design firms, sales of specialty products, visual merchandising and in several niche areas. Both options provide education in the basics of design fundamentals, color theory, floor plan arrangement, window treatments, material selection, drafting and drawing and lighting. There is also an emphasis on business practices for entrepreneurial students wanting to start a business after graduation. Students focus on both presentation and technological skills before taking part in internships within the industry.
As a part of their studies, students have offered suggestions for enhancing the Pickens County Chamber of Commerce building, designed the new interior for the Community Bank of Pickens County, presented re-designs of the Cherokee County Chamber of Commerce and the rental space of the Earl Strand Theatre in Marietta, provided consulting services to the Bartow County College and Career Academy, remodeled the Appalachian Campus Student Center and participated in both the Bent Tree Tour of Homes and the Woodstock Holiday Tour of Homes.