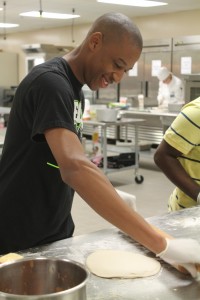 (­­­­­­­­­­­­­­­­­­­Marietta, Ga. – Oct. 18, 2013) The Culinary Arts students at Chattahoochee Technical College are used to following directions and orders from their instructors. So it was a change of pace Friday, Oct. 18 when the students donned their white chef jackets and hats to teach students from the Kennesaw State University SETS program a little about preparing a meal. This is the seventh year for the event.
"It's a great experience for the students in the program and for our students here at Chattahoochee Technical College," said CTC Program Director Hillary Gallagher. "The SETS program is designed to help developmentally disabled young adults learn life skills. We are able to show them some of the basics of the kitchen, which is something that everyone should know."
Working with one or two of the visiting students at a time, the Chattahoochee Technical College worked on lessons in measuring, mixing and food preparation for a lunch that they all got to enjoy together. On the menu were a variety of pizzas with toppings selected by the KSU SETS students, freshly prepared salad with two different types of homemade salad dressing and a special treat of red velvet cookie sandwiches with cream cheese frosting and toasted almonds.
"This is always a popular stop for them," Gallagher added.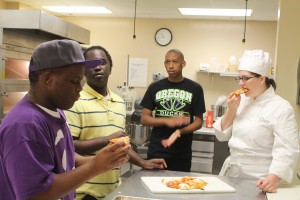 The project brought all these students together in the kitchen at the Mountain View Campus of Chattahoochee Technical College where the SETS students prepared homemade meal items for themselves and their mentors. When they left, they took with them a packet of easy to prepare recipes they can share with their families.
Operated through Cobb County Schools, the SETS Program students are given the opportunity to gain independence while working in a real world setting. The ultimate goal of the Supported Employment Transition Services Program is to prepare students for a life of independence. After exiting the program, students are given the opportunity to seek employment with the support of a supported employment vendor.
Chattahoochee Technical College offers diploma and degree programs through its respected Culinary Arts program at the Mountain View Campus. The 62-hour degree program prepares students for the culinary profession. The program emphasizes a combination of culinary theory and practical application necessary for successful employment. Graduates who are current practitioners will benefit through enhancement of career potential. Those entering the culinary arts field will be prepared to pursue diverse opportunities as cooks, bakers or caterers/culinary managers.