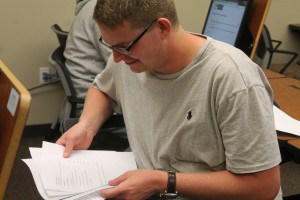 (­­­­­­­­­­­­­­­­­­­Canton, Ga. – Oct. 17, 2013) Veteran's Day is a federal holiday each November designed to honor those who have served in the Armed Forces of the United States. But for a group of Chattahoochee Technical College Business Management students it will also be a learning experience.
The nine students in Chattahoochee Technical College Instructor Diane Petty's Project Management class are doing more than writing a paper for their class project. The students will be planning, coordinating and implementing a special Veteran's Day celebration at the college's Marietta Campus Nov. 12 in conjunction with the Cobb Education Consortium. The event, according to Woodstock resident John Slack, will take place in the atrium of the Marietta Campus from noon to 1 p.m.
Petty said the class and project are designed to give students the experience of managing a project from start to finish. Many former graduates tell her they include information about their own capstone projects as part of their resumes and portfolios. Petty normally assigns a project that gives back to the community, this time choosing the Veteran's Day Ceremony. The service learning model helps reinforce ideas that would otherwise just come from class discussions and reading assignments
"We all loved the idea when we heard it," said student Danielle House of Talking Rock. "If it is successful, the plan is to continue it for years to come. That means we'll be setting the standard as the initial class."
Allyson Thomson of Ball Ground explained that the class has already arranged a full agenda for the hour long ceremony. From a presentation of colors by the Lassister High School JROTC and welcome by Chattahoochee Technical College President Dr. Ron Newcomb to a MIA/POW ceremony and benediction by Criminal Justice Instructor Anthony Korey, the event will include many significant moments. The event will also include keynote speakers Robert and Jan MacKenzie whose son Scott Mackenzie was a student of Petty's.
Petty is not only leading her students on this project, but helping to promote and coordinate a scholarship in Scott Mackenzie's honor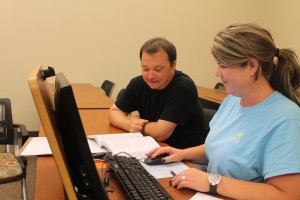 with the Chattahoochee Tech Foundation. A corporal in the United State Marine Corps, he and several members of his team were injured in a roadside attack while serving in Iraq. Among the severe injuries he suffered was a traumatic brain injury and was given a medical discharge after being diagnosed with Post Traumatic Stress Disorder. On Sept. 29, 2011, he lost his battle with PTSD and ended his life.
The planning and coordinating of the event has been a great experience, according to Charles Murphy of Ball Ground. But he would not describe the process as easy.
"The challenge has been how best to honor veterans," said Murphy. "We're trying to come up with ideas that best fit what these men and women have done and how they have served this country."