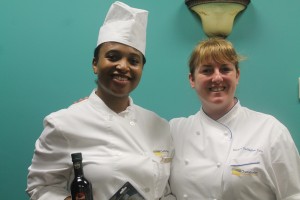 (Marietta, Ga. – Oct. 31, 2013) Six Chattahoochee Technical College Culinary Arts students duked it out Oct. 31 to see who could make the best chili. There were no beans or garnishes, as well as a ban on thickening agents, but the students pulled out creative additions from chicken to corn to best each other in the competition.
"This was the students' idea," said Chef Hillary Gallagher, lead instructor at Chattahoochee Technical College. "This was our second cook-off, and the students definitely take it seriously."
Teams began preparing and cooking their entries at 8 a.m. with judging to taking place around 11 a.m. In addition to being able to brag about their abilities, the students competed for deluxe knives and tools donated by Mercer Cutlery. Judges for the event included Chattahoochee Technical College Instructor Julia LeRoy, Maintenance Technician Jeremy Spurgeon and Mercer Cutlery Business Development Director John Nunez.
"I competed in the first of these cook-offs when I was a student here," said floor judge and Chattahoochee Technical College Instructor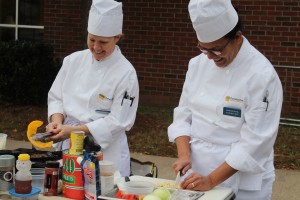 D Moore. "We had to battle the wind and weather conditions. Other than some bees buzzing around, this was a much better event for the students and the results were great. While all four tasted like traditional chili flavors, there were differences to each one that made them stand out in different ways."
According to Moore, the difference between first and second place was only .25 of a point. Entries were judged based on taste, quantity, color, texture, knife cuts and other elements.
| | | |
| --- | --- | --- |
| 1st Place | Hallowed Be Thy Chili | Stella Taylor of Austell |
| 2nd Place | Spooky Chili Chix | Regina Bays of Kennesaw and Caroline Colbert of Kennesaw |
| 3rd Place | Chuck Wagon Girls Chili | JoAnne Davis of Acworth and Denise Rogers of Canton |
| 4th Place | Lone Ranger | Jenny Kiewat of Canton |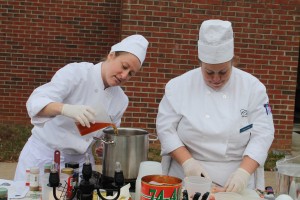 Chattahoochee Technical College offers diploma and degree programs through its respected Culinary Arts program at the Mountain View Campus. The 62-hour degree program prepares students for the culinary profession. The program emphasizes a combination of culinary theory and practical application necessary for successful employment. Graduates who are current practitioners will benefit through enhancement of career potential. Those entering the culinary arts field will be prepared to pursue diverse opportunities as cooks, bakers or caterers/culinary managers.
See more pictures here.