Written by: Ashley Wilson, SPTA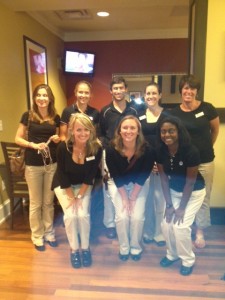 Each semester, the Chattahoochee Technical College Physical Therapist Assistant students participate in a community outreach project.  This July they visited the Ronald McDonald House near the Emory University campus.
One group of the students hosted a rousing game of Bingo for the residents on a Saturday evening.  It was an opportunity for the families staying there to pause for a moment.  It was a chance for them to be silly and smile.  PTA student Lacassa Hill reflected, "It reminded me that as therapist assistants, we will be in a position to change not only the lives of our patients while in clinic but anyone who we come in contact with."  Her classmate Brian Riddle agreed, "(It) was a priceless experience that brought joy to the children, their families, and to me as well. It also seemed to provide a well needed distraction from their everyday worries."
The next evening the second group arrived with beads, string and paracord to offer an evening of crafting bracelets for the residents.  The students sat at tables with families and helped string beads or taught them how to make a cobra weave paracord bracelet. Cheryl Ward, PTA 2014-A class president, reflected, "I was touched by how enthusiastic the kids were and also their parents. We were there to try to uplift them but I think that we all as a group left feeling that ourselves."
The act of kindness provided by the Chattahoochee Tech PTA students made a difference that weekend.  For some it allowed a moment of reprieve from the challenges they were facing.  For others it may have been the gift of a long absent smile upon their face.  And for those students, it became a lesson that demonstrated how a simple gesture can help heal in more ways than they had previously imagined.