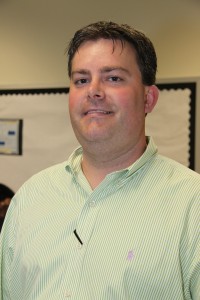 (Marietta, Ga. – Aug. 19, 2013) Chattahoochee Technical College has named Jason Tanner of Woodstock the new Dean of Arts and Sciences at Georgia's largest technical college. His appointment, which will be effective Sept. 1, 2013, concludes a search to fill the position that was left open after the former Dean of Arts and Sciences Brenda White was named Vice President for Academic Affairs.
"He has earned the respect of his peers with his detailed knowledge of our current processes, his willingness to always do what it takes to get the job done, and his never-ending work ethic," said White. "Jason will continue to be an asset to the Arts and Sciences division as he steps into the role of Dean and we look forward to his leadership in this area."
Currently the Associate Dean for Academic Support, Tanner began his career as an instructor in Georgia at the former Chattahoochee Technical College and North Metro Technical College prior to the merger of the two colleges with Appalachian Technical College. After the merger he also served as Humanities Division Chair. Previously he worked for Southwestern Illinois College in Belleville, Ill., right outside St. Louis. He also taught at McKendree College in Lebanon, Ill. Before working in higher education, he worked in the food service industry doing corporate training.
Raised in Montgomery, Ala. Tanner holds a bachelor of arts in English from the University of Alabama and a master of arts in English from Saint Louis University. He is currently enrolled in an educational leadership program at Georgia State University.
The position of Dean of Arts and Sciences includes oversight of Chattahoochee Technical College's learning support classes and general education classes at its eight campuses and online.
"I'm looking forward to the chance to be more involved with instructional processes," said Tanner. "It's been great in Academic Support, but I missed being closer to classrooms, faculty and students in that environment. I am excited about the challenges."
For more information on Chattahoochee Technical College and its programs and services, visit www.ChattahoocheeTech.edu or call 770-528-4545.