(­­­­­­­­­­­­­­­­­­­Marietta, Ga. – August 28, 2013) The average age of a Chattahoochee Technical College student might be 27 and the average age of a Marietta Center for Advanced Academics is 10, but the two schools are now partners in education. At the elementary school's August PTSA meeting, Chattahoochee Technical College Executive Vice President Dr. Trina Boteler and Vice President for Academic Affairs signed an agreement with the MCAA's Principal Jennifer Hernandez.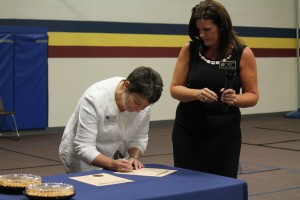 "We are very excited about the partnership," said Boteler. "This school and its students are wonderful examples of college and career readiness from their enthusiasm to their test scores. We are looking forward to working with the faculty, staff and students here."
Chattahoochee Technical College is one of several colleges to partner with the elementary (grades 3-5) magnet school in the Marietta City School District and its more than 300 students. The students experience an accelerated curriculum that emphasizes science, technology, engineering and mathematics (STEM) in a one-to-one computing environment. So far Chattahoochee Technical College has outfitted the school's "launch pad" or engineering lab and fabricated a metal rocket that will be installed on the roof of one of the school's buildings. Plans are in the works for other collaborations between the schools.