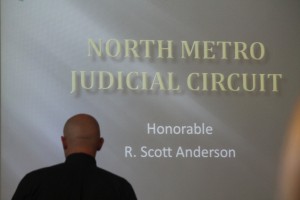 (­­­­­­­­­­­­­­­­­­­Acworth, Ga. – June 19, 2013) Most EMT's don't want to be a part of courtroom drama. In fact, it is a situation that students don't even want to think about, but one that Chattahoochee Technical College Instructor Scott Anderson felt was an important lesson for his students in the Emergency Medical Services program. The students, who are currently studying to be Emergency Medical Technicians or Advanced Emergency Medical Technicians, were put to the test June 19 with two mock trials that left them in the roles of lawyers, defendants, victims and witnesses.
"The students walked in the first day of class this summer and were handed a summons," said Anderson, who filled the role of judge for the exercise. "I chose the cases based on observations the students had made during previous experiences of ride-alongs with local professionals. These weren't actual court cases, but they could easily be something that a professional would encounter."
The students were placed on teams and picked roles to fulfill the task of bringing the scenarios from the classroom to the courtroom. Hours of research into medical terms and facts, as well as procedures took place before the mock trials.
"It was a bear," said student Dave Jones of Dallas, who played the complainant's attorney in the first case. "We had about a week and a half to pull everything together. I started writing my case at about 8:30 yesterday morning and didn't finish until last night."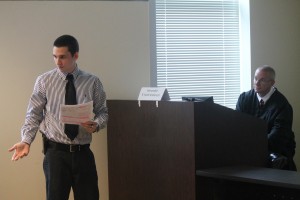 Making it more challenging, the skills discussed in the cases are not ones the students have learned yet, according to Anderson. However, it was not the skills that were the focus but the documentation that students have been learning about that was the key to both cases. Students have been learning to complete patient care reports that ask an EMT/AEMT to document everything from care given to the weather conditions and extenuating circumstances. The cases, said Anderson, were chosen and designed to emphasize the importance of those documents. That was just what the plaintiff's attorney in the second case chose to base his argument on for the class.
"You say that you did all the right things," Ben Nally of Cartersville said to the mock-defendant in front of a jury of nursing students. "But it's not on this document. If you didn't write it down then it's like you didn't do it."
Chattahoochee Technical College's Emergency Medical Services Program is a diploma level-program, consisting of 45 credit hours of classroom and clinical work. The program covers both the U.S. Department of Transportation Emergency Medical Technician Curriculum and the Advanced Emergency Medical Technician Curriculum. Successful completion of the program allows the graduate to take both the National Registry of Emergency Medical Technicians EMT and AEMT certification examinations and receive Georgia licensure as an Advanced EMT. This program is based at the North Metro Campus of Chattahoochee Technical College.